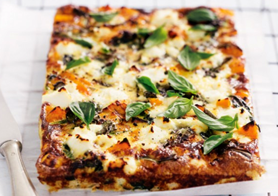 700g butternut pumpkin, peeled, cut into 2cm pieces
Olive Oil Spray
1 leek, pale section only, halved lengthways, washed, dried, thinly sliced crossways
2 garlic cloves, crushed
100g baby spinach leaves
4 eggs
2 egg whites
1/4 cup skim milk
1/3 cup fresh low-fat ricotta
1/3 cup fresh basil leaves
Step 1: Preheat oven to 200°C. Line a large baking tray with non-stick baking paper. Place the pumpkin on the lined tray and spray with olive oil spray. Season with pepper. Bake in oven for 25 minutes or until golden.
Step 2: Meanwhile, heat a large non-stick frying pan over medium heat. Spray lightly with olive oil spray to grease. Add the leek and cook, stirring occasionally, for 5 minutes or until soft. Add the garlic and cook, stirring, for 1 minute or until soft. Add the spinach and cook, stirring, for 3 minutes or until the spinach just wilts.
Step 3: Line a 26 x 16cm (base measurement) slab pan with non-stick baking paper. Spread the pumpkin and leek mixture evenly over the base of the pan.
Step 4: Whisk together the eggs, egg whites and milk in a jug. Pour egg mixture evenly over pumpkin and leek mixture. Sprinkle evenly with ricotta. Bake for 20 minutes or until puffed and golden. Sprinkle with the basil. Serve with mixed salad leaves, if desired.