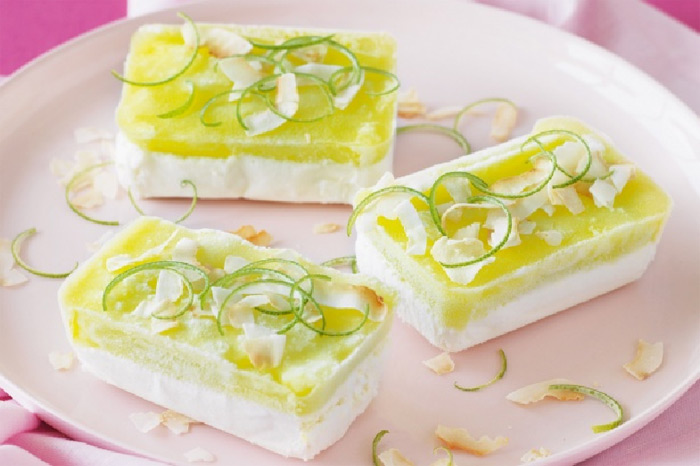 1.25 litres vanilla ice-cream, softened
50g sachet coconut milk powder
3/4 cup pineapple juice
3/4 cup lemon and lime mineral water
2 tablespoons lime juice
Lime rind strips and toasted coconut flakes, to serve
Step 1. Grease an 8-hole, 3/4 cup-capacity mini loaf pan. Line each hole with baking paper, allowing a 3cm overhang at long ends.
Step 2. Place ice-cream and coconut milk powder in a bowl. Stir to combine. Spoon into prepared pan holes. Smooth tops. Cover with plastic wrap. Freeze for 8 hours or until firm.
Step 3. Meanwhile, combine pineapple juice, mineral water and lime juice in a jug. Cover. Refrigerate until needed.
Step 4. Remove pan from freezer. Spoon pineapple mixture over ice-cream loaves. Freeze overnight or until firm.
Remove from freezer. Set aside for 15 minutes. Remove from pan. Top with lime rind and coconut flakes. Serve