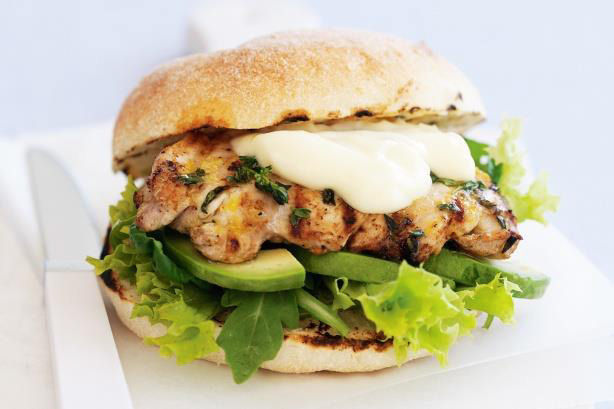 4 chicken breast fillets
2 tablespoons thyme leaves
2 tablespoons olive oil
1 large lemon, rind finely grated, juiced
4 turkish bread rolls, split
Olive oil cooking spray
50g mixed salad greens
1 avocado, halved, slice
1/3 cup aioli or whole-egg mayonnaise
Step 1. Place chicken between 2 sheets of non-stick baking paper. Using a meat mallet, pound until 1cm thick. Combine thyme, oil, lemon rind and ¼ cup lemon juice in a shallow ceramic dish. Season with salt and pepper. Add chicken and turn to coat. Cover and refrigerate for 30 minutes, if time permits.
Step 2. Preheat fry pan and grill on medium-high heat. Remove chicken from marinade. Cook chicken for 2 to 3 minutes each side or until cooked through. Meanwhile, spray cut side of rolls with oil. Grill rolls for 1 to 2 minutes or until golden brown
Step 3. Arrange salad greens on roll bases. Top with avocado, chicken and aioli. Cover with roll tops and serve.