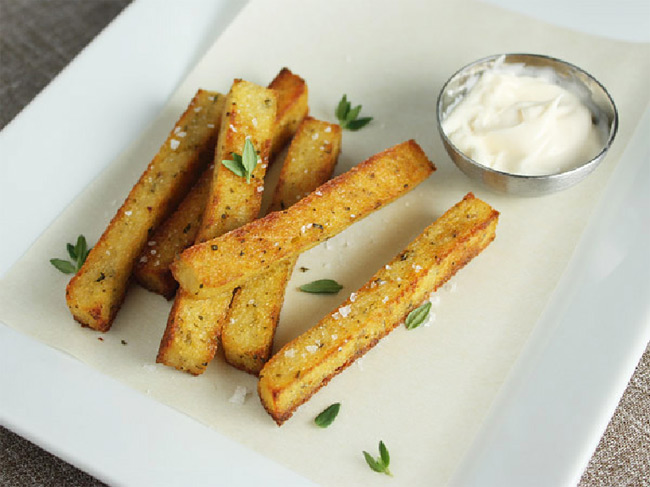 1 cup instant polenta
1 tablespoon chopped rosemary leaves
1 tablespoon oregano leaves
1 tablespoon thyme leaves
Olive oil, for brushing
2 ½ cups chicken stock
30g butter, chopped
Sea salt and cracked black pepper
¼ cup parmesan
Step 1. Place stock in a large saucepan over medium heat and bring to the boil, gradually whisk the polenta into the stock whilst it is boiling. Cook, stirring for 2-3 minutes or until thickened.
Step 2. Remove from heat and add parmesan, butter, thyme, oregano, rosemary salt and pepper, stir to combine.
Step 3. Spoon into a lightly greased baking tray and spread 1cm thick. Refrigerate for 30 minutes or until set.
Step 4. Preheat oven to 220 degrees. Cut the polenta into 2cm x 10cm fingers and brush with oil. Place on a lightly greased baking tray and bake for 20-25 minutes or until golden and crisp. Serve with mayonnaise or garlic aioli.