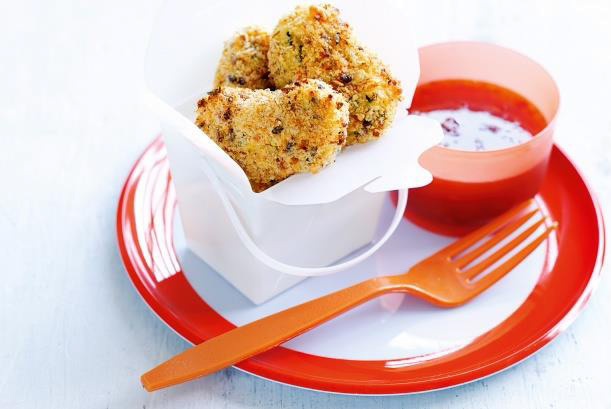 2 large sebago potatoes, peeled, chopped
1 teaspoon olive oil
½ small brown onion, finely chopped
1 medium zucchini grated
1 medium carrot, peeled, grated
1/3 cup grated cheese
1 egg
1 tablespoon milk
1 cup dried multigrain breadcrumbs
Step 1. Preheat oven 200 degrees fan forced. Line a large baking tray with baking paper
Step 2. Cook potato in saucepan of boiling water for 10 minutes or until tender. Drain. Mash. Set aside to cool for 5 minutes
Step 3. Meanwhile, heat oil in a frying pan over medium heat. Add onion. Cook, stirring, for 2 to 3 minutes or until softened.
Step 4. Squeeze excess liquid from zucchini. Combine zucchini, carrot, cheese and onion in a bowl. Add mashed potato. Season with salt and pepper. Stir to combine.
Step 5. Whisk egg and milk together in a bowl. Add 1 tablespoon egg mixture to potato mixture. Stir to combined.
Step 6. Place breadcrumbs on a plate. Roll level tablespoons of mixture into 30 nuggets. Dip 1 nugget at a time into remaining egg mixture, shaking off excess. Coat in breadcrumbs. Place on prepared tray. Spray nuggets lightly with oil. Bake for 15 to 20 minutes or until golden.