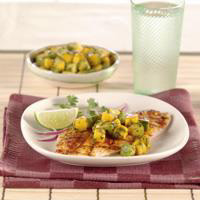 1 teaspoon ground coriander seeds
1 teaspoon of paprika
¾ teaspoon salt
¼ teaspoon of ground pepper
1 tablespoon olive oil
4 skinless red snapper
½ cup of diced ripe avocado
½ cup of diced papaya
2 tablespoon of chopped fresh Coriander
1 tablespoon of lime juice
4 lime wedge
Step 1. Prepare grill for direct grilling. Combine coriander, paprika, salt and red pepper in small bowl or cup; mix well. 
Step 2. Brush oil over fish. Sprinkle 2-1/2 teaspoons spice mixture over fish fillets; set aside remaining spice mixture. Place fish on oiled grid over medium-hot heat. Grill 5 minutes per side or until fish is opaque. 
Step 3. Meanwhile, combine avocado, papaya, fresh coriander, lime juice and remaining spice mixture in medium bowl; mix well. Serve fish with salsa and garnish with lime wedges