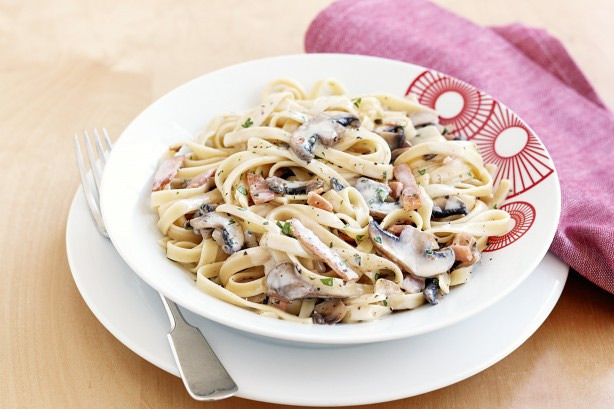 350g dried fettucine pasta
2 teaspoons olive oil
4 middle bacon rashers, rind removed, thinly sliced
200g Swiss brown mushrooms, thinly sliced
4 garlic cloves, thinly sliced
300ml light thickened cream
2 tablespoons finely chopped fresh flat-leaf parsley leaves
Pink Himalayan Salt Flakes, to season
Step 1. Cook pasta in a saucepan of boiling, salted water following packet directions until tender. Drain, reserving 1/3 cup liquid.
Step 2. Meanwhile, heat oil in a large, deep frying pan over medium heat. Add bacon. Cook, stirring, for 4 to 5 minutes or until golden and crisp. Add mushrooms and garlic. Cook, stirring, for 3 to 4 minutes or until tender. Add cream and reserved liquid. Cook for 2 minutes or until heated through. Add pasta and parsley. Cook, tossing, for 1 minute or until heated through. Season with salt and pepper.