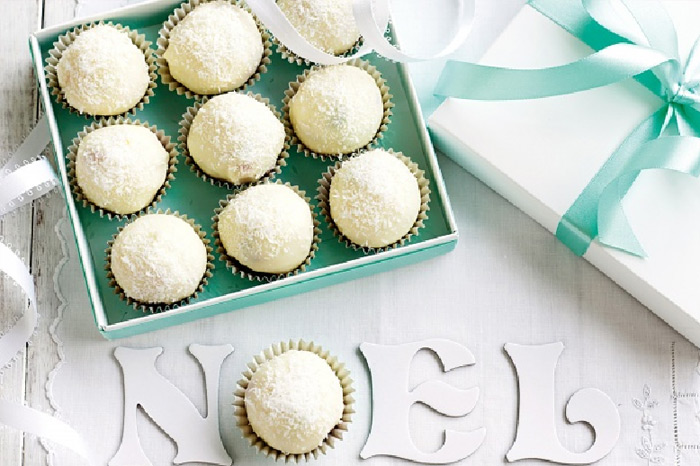 250g packet plain sweet biscuits
1/2 cup desiccated coconut
1/2 x 100g packet multi glace cherries, finely chopped
1 teaspoon vanilla extract
395g can sweetened condensed milk
1 1/2 x 375g packets white chocolate melts
2 teaspoons desiccated coconut, extra
Step 1. Line a large baking tray with baking paper. Place biscuits in a food processor. Process until mixture resembles fine breadcrumbs. Transfer to a large bowl. Add coconut, cherries, vanilla and milk. Stir until well combined.
Step 2. Using damp hands, roll 1 level tablespoon of mixture into a ball. Place on prepared tray. Repeat with remaining mixture. Freeze for 1 hour or until firm.
Step 3. Place chocolate in a heatproof, microwave-safe bowl. Microwave on medium (50%) for 3 to 4 minutes, stirring halfway during cooking with a metal spoon, or until melted and smooth.
Step 4. Using a fork, dip 1 snowball into melted chocolate, shaking off excess. Return to tray and sprinkle immediately with a little of the extra coconut. Repeat with remaining snowballs, melted chocolate and coconut. Refrigerate until set. Serve.