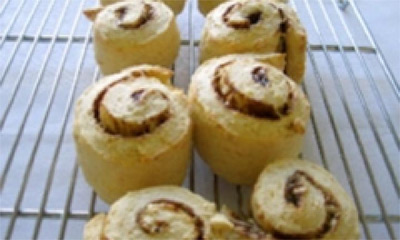 1 ½ cups self-raising flour
½ cup wholemeal flour
80g butter
2/3 cup milk
2/4 cup cheddar cheese, grated
¼ cup parmesan cheese, grated
1 tbsp Vegemite, heaped
1 tbsp milk
Step 1. Preheat oven to 200°C.
Step 2. In a medium bowl, combine both flours and butter.
Step 3. Using your fingertips, rub the butter through the flours until you have a breadcrumb consistency, then add ¾ of the cheese combination and milk and work into a dough ball with your hands.
Step 4. When these ingredients are combined, lightly flour your kitchen bench and gently push the dough out into a rectangle, approximately 1 cm in depth.
Step 5. Spread Vegemite evenly over the top of the dough and sprinkle with remaining cheese.
Step 6. Roll the dough into a long rope shape, rolling it away from you. When you have a rope of dough, cut it into eight equal rounds and place them on a lined baking tray.
Step 7. Brush with milk.
Step 8. Bake for 20 minutes then remove from oven and cool on wire rack.