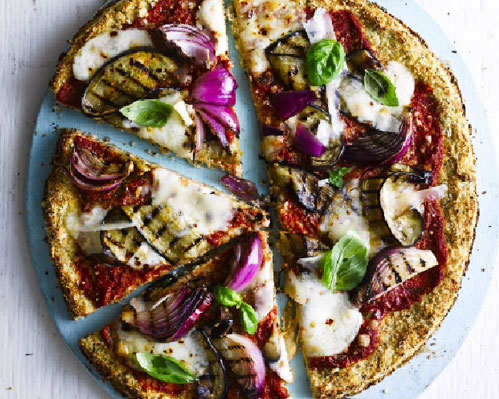 Ingredients
1 head cauliflower, stalk removed
½ cup shredded mozzarella
¼ cup grated parmesan
½ teaspoon dried oregano
½ teaspoon salt
¼ teaspoon garlic powder
2 eggs, lightly beaten
Procedure
Preheat oven to 205 degrees Celsius
Break the cauliflower into florets and pulse in a food processor until fine. Steam in a steamer basket and drain well. Let cool.
In a bowl, combine the cauliflower with the mozzarella, parmesan, oregano, salt, garlic powder and eggs.
Line a pizza tray with baking paper and transfer the cauliflower mixture to the centre of the baking paper. Spread into a circle, resembling a pizza crust. Bake for 20 minutes.
Add desired toppings and bake an additional 10 minutes.
Source:foodnetwork.com