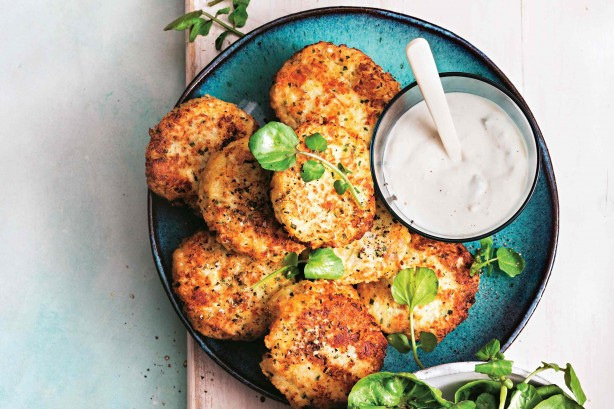 600g cauliflower florets
100g Greek-style fetta,
crumbled
¼ fresh chives, finely chopped
2 teaspoons fresh thyme
leaves
¾ cup fresh breadcrumbs
1/3 cup plain flour
1 egg yolk
¼ cup extra virgin olive oil
Step 1. Preheat oven to 150C/130C fan-forced. Place cauliflower in a metal steamer over a saucepan of simmering water. Cover. Steam for 5 to 7 minutes or until tender.
Step 2. Process cauliflower in a food processor until chopped. Transfer to a bowl. Add fetta, chives, thyme, breadcrumbs, flour and egg yolk. Season with salt and pepper. Using clean hands mix until well combined. Working with damp hands, shape 1/4 cup of mixture into a firm patty. Place onto a baking paper-lined tray. Repeat with remaining mixture. Refrigerate for 30 minutes or until firm.
Step 3.  Heat oil in a large frying pan over medium-high heat. Cook fritters, in batches, for 2 minutes each side or until golden and heated through. Transfer to a wire rack over a baking tray. Place in oven to keep warm while cooking remaining fritters.
Step 4. Serve fritters with salad, tzatziki and lemon wedges