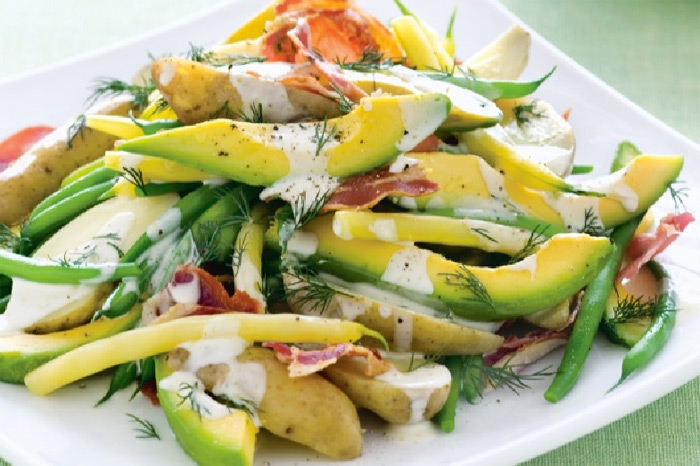 150g small green beans, trimmed
150g small butter beans, trimmed
800g kipfler potatoes, scrubbed
100g sliced pancetta
2 avocados, halved, stones removed, peeled, sliced
1/3 cup whole-egg mayonnaise
1 large lime, rind finely grated, juiced
1/3 cup dill sprigs
Step 1 Bring a large saucepan of salted water to the boil over high heat. Add green beans and butter beans. Cook for 3 minutes or until bright green and tender. Using a slotted spoon, transfer to a colander and refresh under cold water. Pat dry with paper towel.
Step 2 Add potatoes to saucepan and cook for 12 minutes or until just tender. Drain and set aside to cool slightly. Cut in half lengthways.
Step 3 Preheat grill on high heat. Place pancetta on a baking tray and grill for 5 minutes or until crisp. Drain on paper towel. Tear into small pieces.
Step 4 Arrange beans, potatoes, pancetta and avocado on a platter. Combine mayonnaise, lime rind and 1 1/2 tablespoons lime juice in a bowl. Pour dressing over salad. Season with salt and pepper and sprinkle over dill